Wholesale CJX2 4010 AC Contactor For Your High Power Application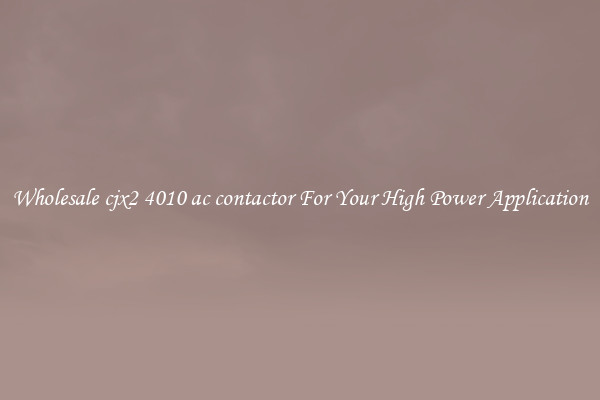 When it comes to high power applications, you need reliable and efficient electrical components that can handle the load. That's where the wholesale CJX2 4010 AC contactor comes in. This contactor is specifically designed for high power applications and is perfect for use in industrial settings, power control systems, and other heavy-duty applications.
The CJX2 4010 AC contactor is designed to handle high voltages, making it an ideal choice for applications that require a large amount of power. With its compact and lightweight design, this contactor can easily fit into tight spaces and can be mounted on a DIN rail or directly to a panel. This makes installation quick and hassle-free, saving you time and effort.
One of the key features of the CJX2 4010 AC contactor is its high contact capacity. With a rated current of up to 40A, this contactor can handle large amounts of power without overheating or malfunctioning. Its high contact capacity ensures smooth and reliable operation, making it suitable for heavy-duty applications that require a continuous flow of power.
The CJX2 4010 AC contactor also offers excellent durability and longevity. It is made from high-quality materials that are resistant to wear and tear, ensuring that it can withstand the rigors of high power applications. Additionally, this contactor has a long electrical and mechanical life, meaning it can endure thousands of operations without losing its performance.
Another advantage of the CJX2 4010 AC contactor is its versatility. It is compatible with a wide range of accessories, including auxiliary contacts, surge suppressors, timers, and more. This allows you to customize the contactor according to your specific application requirements, making it a versatile and flexible solution.
It is important to note that purchasing the CJX2 4010 AC contactor in wholesale quantities offers significant cost savings. Buying in bulk allows you to take advantage of discounted prices, reducing your overall expenses. Moreover, having spare contactors on hand ensures that you are prepared for any potential failures or emergencies, minimizing downtime and increasing productivity.
In conclusion, the wholesale CJX2 4010 AC contactor is the perfect solution for high power applications. With its high contact capacity, durability, and versatility, it offers reliable and efficient operation, ensuring the smooth functioning of your electrical systems. By purchasing in wholesale quantities, you can not only save money but also be prepared for any contingencies that may arise. So, if you have a high power application that requires a robust and reliable contactor, look no further than the CJX2 4010 AC contactor.